Rare Disease Challenge recap: no $10K, but plenty of other good things
The Rare Disease Challenge voting ended at 1:00 am this morning, with the Rett Syndrome team taking 1st place with 15,607 votes.  Our team placed 4th out of 10, with 1,414 votes: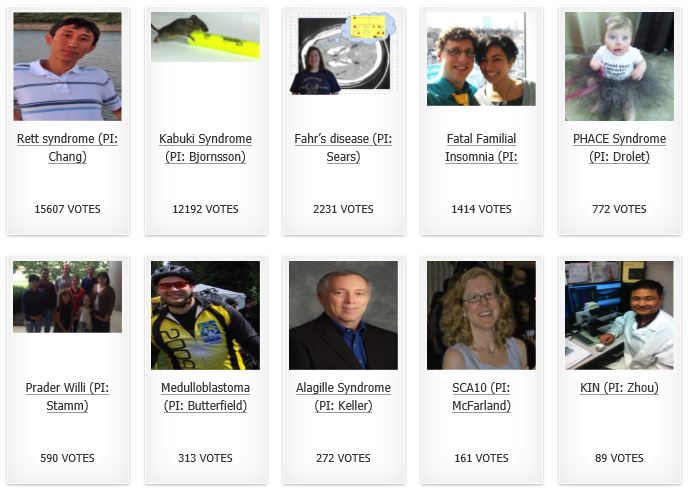 We'd like to extend a huge thanks to everyone who voted for us – repeatedly!  It's a lot to ask to have people remember to log on and vote every day, yet by the end we found that over a hundred people were voting for us every day, which is pretty awesome.  We really appreciate all of your support and help in getting the word out to your extended circles.
Though we didn't end up winning 1st place for the $10,000 cash prize, these were a really great couple of weeks nonetheless.  This competition was a good motivation to step up our outreach efforts, and it paid off.  Through Facebook we reached out and met several other families affected by genetic prion disease, and we are really grateful to be able to connect with people in the same boat!  Even besides the other families, we just met a lot of really wonderful people who wanted to support us – we tripled our number of Facebook Likes, received donations from new folks, and kind words and emails from all around.  Our story was told on MIT's CoLab Radio and in Swarthmore's Daily Gazette, leading to people we had never met getting in touch to tell us they are excited about what we're doing!
Rare Disease Challenge aside, we are moving forward with our research goals and are well on our way to meeting our fundraising goal for this month – donate here if you haven't yet (thank you!)
By the way – don't miss the interesting new posts at CureFFI.org.  Those of you who've heard us expound on the value of personal genomics (and aren't tired of hearing about it yet!) will enjoy our post on our experience with 23andMe (preview: we strongly recommend it).  And if you're in the mood for a brainteaser and reminiscing about the days you used to read Parade Magazine, check out fatal familial insomnia and the boy girl paradox.